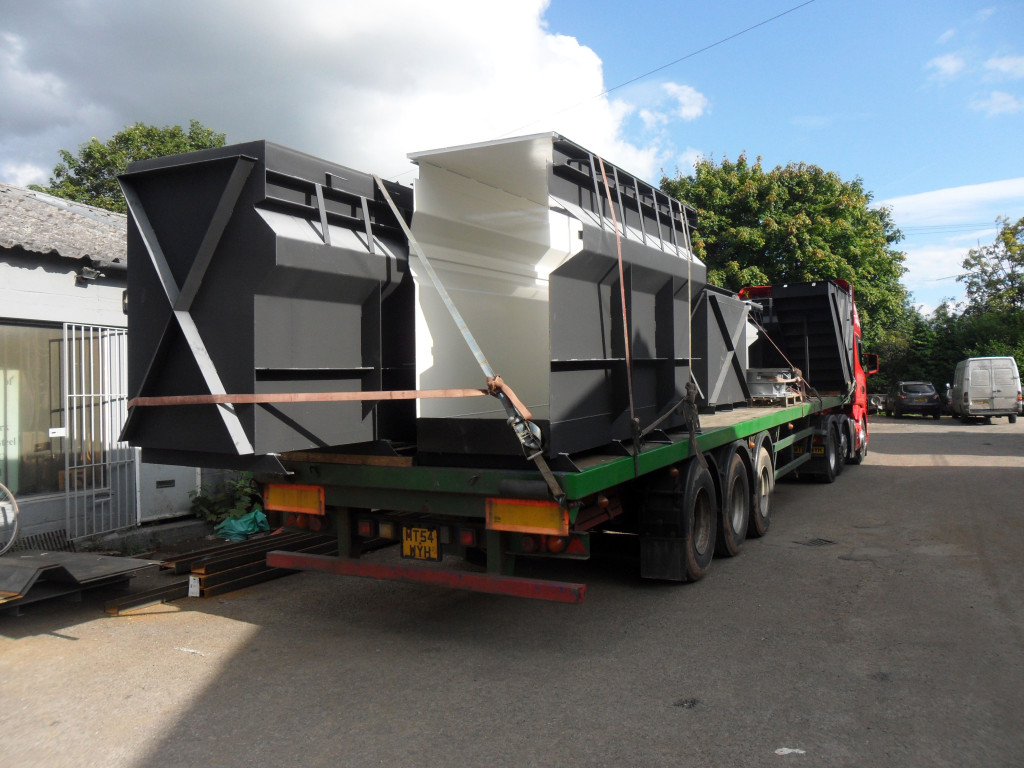 We manufacture class 4 and 7 inspection pits to the highest standard possible and carry CE certification to En 1090-2 Exc 2.
Our quality control and skilled workforce have manufactured over 150 inspection and work pits over the last fifteen years.
The concept is to manufacture a waterproof inspection pit with integrated services and equipment to make the technicians working environment more efficient and comfortable to work in.
Pits are delivered from our factory in Hereford by lorry with a HIAB or collected by the customer to allow unloading on site directly into the pre excavated area. Installation from this point can take as little as 3 days to complete and pre-installed air and electrical equipment can mean that they can simply be connected to the services on site.
Installation can be undertaken by a competent civil engineer or builder as full excavation drawings and step by step installation instructions are included with all inspection pits. Telephone assistance is always available if required. For full installation costs please enquire.

Honda Uk installation 2015.
Specifications
Class 4: 6 metres long. 4 metres working length. 1650mm internal depth. Either 900mm or 1m wide internally.
Class 7: 7.5 metres long. 6 metres working length. 1650mm internal depth. Either 900mm or 1m wide internally.
Side subway tunnel and split bed brake tester option available.
All Tecnik inspection pits are manufactured in accordance with BS EN 1090-2:2008 + A1:2011  Exc 2. for which Tecnik Engineering ltd is accredited.

We operate an annually audited "Factory Production Control" (FPC.) Proceedure. This ensures all materials are certified to grade S275 or S355, Workshop equipment is calibrated. All welders are coded. Structural calculations are supplied for all structures we manufacture and a Declaration of performance (DOP.) is issued with each inspection pit.  This became a mandatory obligation in 2013. as inspection pits are classed as a load bearing structure. As part of the "Construction Products Regulation". (CPR.)    Each pit is therefore CE marked.
Side walls are pressed from 5mm thick grade S275 steel plate. Fully seam welded. This extra thickness of steel will withstand the hydraulic pressure of concrete during installation. The recesses that also run the full length of the pit accommodate the lights, 110v sockets and air lines keeping the working area open and facilitating the diffusion of light to the underside of the vehicle as well as the working area. At the base of every pit twin side rails are installed to allow the use of a sliding raised platform to obtain further height for the operator if required.
Floors pressed from 6mm at base durbar plate with Steel channel and angle bracing under the floor ready for bolting to a concrete base at less than 1m centres. All fully seam welded. This ensures ease of packing and levelling on site when bolting down to a pre-installed concrete base. The substantial under bracing ensures the floor does not belly up from pressure created during concreting.
Full length Jacking channels 150×75 PFC. (channel.) These are set to a +2-2mm tolerance. This enables the pit to form the accurate final floor concrete level more than sufficiently accurate for VOSA testing station purposes. It also allows the rolling jack to move along the pit without interference.
Integral steel staircase and ladder conforming to building regulations K1.
Integral steel sump with matching floor lid. The floor of the pit is manufacture at a slight gradient from both ends leading to the sump allowing any spilt fluids to be safely cleaned from one area.
The pits are thoroughly cleaned and de-greased prior to two external coats of zinc phosphate primer. Internally the walls and jacking beam are primed with white zinc phosphate primer followed by a top coat of brilliant white enamel. The floor is coated twice with black zinc phosphate primer finish.
For Class 4/7 inspection pits we can pre-set up the casting trays and cassettes to accommodate most manufacturers play detectors and radius plates relieving the civil engineers the inconvenience and responsibility of shuttering or setting equipment trays in the correct locations for installation.
If your garage appears too small or awkward a shape to accommodate a test lane we can integrate a subway tunnel or split bed brake tester to compact your test area to the very minimum footprint. This means that you can order a Tecnik pit ready set up for your specific test station layout.
Full excavation drawings and installation instructions included with all inspection pits and telephone assistance if required.Our inspection pits generally have 20% thicker steel than our competitors.
Please call or email Nick Jacks for advice and quotations.
For a full list of available accessories please click on the accessories page.