At Tecnik Engineering Ltd, we have been manufacturing vehicle inspection pits and associated civil engineering equipment for over fifteen years. In this time we have supplied steel pits to many of the large haulage, bus, garage equipment supply companies and county councils across the country.
In all we have manufactured well over 100 pits. Many being VOSA approved ATF lanes.
All Tecnik inspection pits are manufactured in accordance with BS EN 1090-2:2008 + A1:2011  Exc 2. for which Tecnik Engineering ltd is accredited.  Ie. We CE mark our inspection pits.
Among others we have supplied Many County councils, Honda UK Swindon car plant, Streamline Shipping, EMN plant, Robbinsons transport, Arthur Spriggs, Gittins transport, Gammonds transport, and equipment suppliers Gemco, Snap-on, Bradbury equipment,V-Tech, Tecalemit,Maha,VLT etc.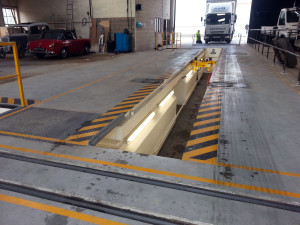 Our pits are manufactured specifically to suit each site however standard class 4, 7 and ATF lanes are often available from stock. With our large capacity engineering workshops we can offer a quick turnaround on most projects and can offer the following services:
Site surveys and advice
Full manufacturing of inspection pits including associated civil engineering cassettes to hold brake tester, play detectors and radius plates etc
Marking ready for excavation on site
Set up of pit on site and set levels
Installation or overseeing of installation by customers civil engineers
Installation of services including air, extraction, electric lights and sockets
Supply of regulatory handrails, pit covers, bridges etc. where required
Tecnik pits are manufactured using the thickest materials in the industry.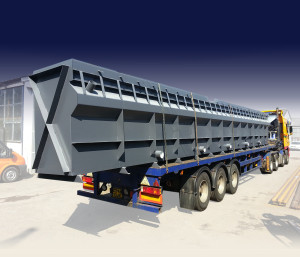 Side walls are pressed from 5mm thick plate with floor sections pressed from a minimum of 6mm at base  steel durbar. All welds are fully seam welded. Apart from being the heaviest duty pits on the market, all ATF and HGV working pits are braced with at least 6mm thick bracings at less than 1m intervals. This ensures the pits only need bracing between the twinned up 150x75mm channel jacking rails at the top of the pit during installation. The rest of the pit will withstand the hydraulic pressure during concreting without any further internal bracing.
All services are mounted on pre-installed metal conduit so as to prevent any perforation to the outer walls during installation.
Twin raised level sections are fitted 300mm up from the pit floor in each pit for a sliding raised aluminium platform to be used anywhere along the pit.
All pits are manufactured to ensure a tolerance of +-3mm in straightness and levelness along the jacking rails. This ensures any concrete flooring laid around the pit can utilize the jacking rails level to meet VOSA regulation tolerances.
Standard widths are 900mm or 1m however we can manufacture other widths upon request.
All pits are spray coated internally with two coats of zinc phosphate primer and finished with high quality polyurethane gloss white to a high finish.
Externally all steelwork is coated with two coats of container paint.
We operate an annually audited "Factory Production Control" (FPC.) Procedure. This ensures all materials are certified to grade S275 or S355, Workshop equipment is calibrated. All welders are coded. Structural calculations are supplied for all structures we manufacture and a Declaration of performance (DOP.) is issued with each inspection pit.  This became a mandatory obligation in 2013. as inspection pits are classed as a load bearing structure. As part of the "Construction Products Regulation". (CPR.)    Each pit is manufacture in compliance with BS EN 1090-2:2008 + A1:2011  Exc 2. All pits are CE marked.
We have manufactured in ground cassette frames and shuttering kits for most manufacturers of brake tester equipment, four post lifts and scissor lifts.
These include class 4 7 and commercial brake tester holding frames.
These are all skirted so that the civil engineer does not need to shutter the area to obtain an accurate recess for the equipment as the cassettes provided will be dimensionally correct and when suspended from the existing floor or fixed to a base. The concrete can then be poured and floated to finished floor level. We supply step by step instructions with each order to ensure a compliant finished job.