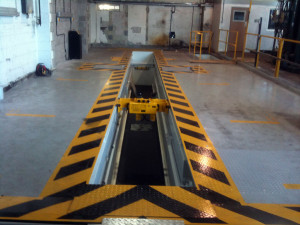 At Tecnik we have a comprehensive knowledge of manufacturing and installing ATF compliant inspection pits and associated equipment over the last ten years. Also ideal for HGV maintenance when not being used for testing.
All Tecnik inspection pits are manufactured in accordance with BS EN 1090-2:2008 + A1:2011  Exc 2. for which Tecnik Engineering ltd is accredited.
We operate an annually audited "Factory Production Control" (FPC.) Proceedure. This ensures all materials are certified to grade S275 or S355, Workshop equipment is calibrated. All welders are coded. Structural calculations are supplied for all structures we manufacture and a Declaration of performance (DOP.) is issued with each inspection pit.  This became a mandatory obligation in 2013. as inspection pits are classed as a load bearing structure. As part of the "Construction Products Regulation". (CPR.)    Each pit is therefore CE marked.
All pits are manufactured to conform to VOSA regulations for the testing of coaches, HGV's, vans etc. We can design your pit to be compliant even if your building layout dictates your exit tunnels have to be manufactured in a different orientation to the norm.
ATF inspection pits are manufactured with S275/S355 steel and are braced with 6mm thick braces at no more than 1m intervals. Side wall are pressed from 5mm thick steel and floors from 6mm at base durbar plate. The underfloor channels and angles are pre drilled to allow levelling and bolting down to a pre-cast base to a +-3mm tolerance on site. All floor and side walls are fully seam welded with integrated twin jacking rails. Subway tunnels are covered with 30mm tick steel plates to allow the weight of vehicles to pass over the tunnel. The staircase tunnel has a K1 building regulations staircase for entry and the secondary tunnel houses an escape ladder exit.
A central sump collects any spillage with graduated floor towards the sump from both ends of the pit.
Twin side rails for elevated working height inside the pits are fitted as standard including the sliding aluminium platform. The full length services recess will house all lights, air and 110v sockets maintaining a free working area and plentiful light to the pit and underside of vehicles.
All pits are externally coated with two coats of zinc phosphate and internally with two coats zinc phosphate primer followed by high gloss white enamel. Flooring is finished in black. area and plentiful light to the pit and underside of vehicles.
A hydraulic side box can be integrated into a side wall to house the hydraulic pump associated with the play detectors. Large integrated storage side boxes up to 2m wide can also be fitted during manufacture to house oil drums etc.
All of our pits come with pre-installation braces fitted to the top jacking rails to maintain accuracy of the rails during the installation and cover boards to keep them internally clean.
Upon installation on site our operatives will oversee the offloading, set up, leveling, anchoring down and seam weld the tunnel sections to the main pit. We also set up and level the play detector and radius plate trays on site ready for the sequence of concrete pouring. We can also supply and set up commercial brake test cassettes to accommodate most manufacturer's equipment.
A detailed layout excavation plan and step by step installation instructions are supplied to your civil engineers prior to installations. Advice and assistance is always available during preparation of the site and during the installation period. Alternatively we can offer a complete manufacturing and installation package to the customer.
All inspection pits come with a ten year warranty against faulty workmanship, water ingress and defects in manufacture. Structural calculations can be supplied upon request.
Standard sizes. 13m or 15m pit length. Side tunnels up to 3m. 900mm to 1m wide. 1650mm internal depth. 1350mm from sliding raised platform.
Please call for further information. 01432 341555